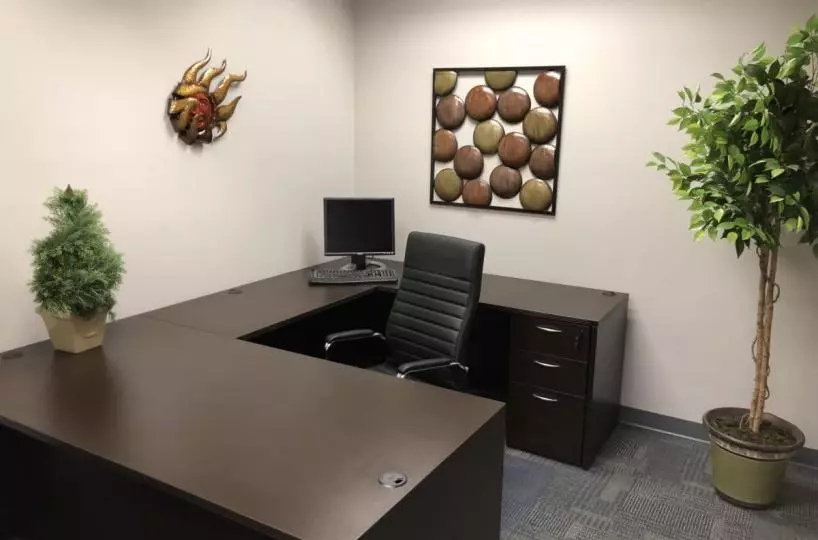 Executive Suites offer smaller office space plus shared amenities such as lobbies, reception areas, receptionist personnel, break rooms, conference rooms. Thus, the tenant is able to rent less space for an office and use the common areas which are included. Typically an agreement for space can range from periods of 6, 12, or 18 months. Executive Suites are usually considered "plug and play" – like an Office Hotel, they are fully furnished including Desks, chairs, trash cans, file cabinets, artwork, computer network and WiFi. Typically there is one price for everything making this an affordable and professional option without long term commitments or large start up costs.  Executive Suite models typically offer a very low effort way to start off in a new office or downsize into an office space managed by someone else.
Benefits and features included with base rent:
Shared receptionist allowing you to effectively have a full time receptionist for less than $200 a month instead of $2000+.
Furnished offices saving you time and hassle of buying, storing and moving furniture.
High Speed Internet, some providers like SPS include full Enterprise grade Gigabit speed fiber while others usually around 100mbps.
Turnkey and ready to go, true plug and play!  Secure WiFi included.
Short term leases of usually 6-18 months
Low start up costs typically just 1st month rent plus security deposit equal to rent and one time door sign ($25) fee is all that is needed.