JOIN OUR PRIVATE OFFICE SPACES AND EXECUTIVE SUITES TODAY
Modern Office Spaces
Roseville CA Small Office for Rent. More than an office space. Succeed Professional Suites are a modern gigabit powered work environment that comes completely furnished and move-in ready. Gain access to flat rate rent that includes high speed internet, Shared receptionist and lobby, well stocked break room, all utilities, and a fantastic community with energy and enthusiasm.
No long-term Leases
At Succeed Professional Suites there are no required multi-year long term leases. These state of the art private offices and executive suites are built around eliminating distractions and procrastination to free you to focus on productivity. This space becomes your new headquarters for your business. Clients are welcome to meet in your office or use our conference rooms with tv and conference calling. Let us help to project your company's professional brand and image that makes you appear much bigger than you are.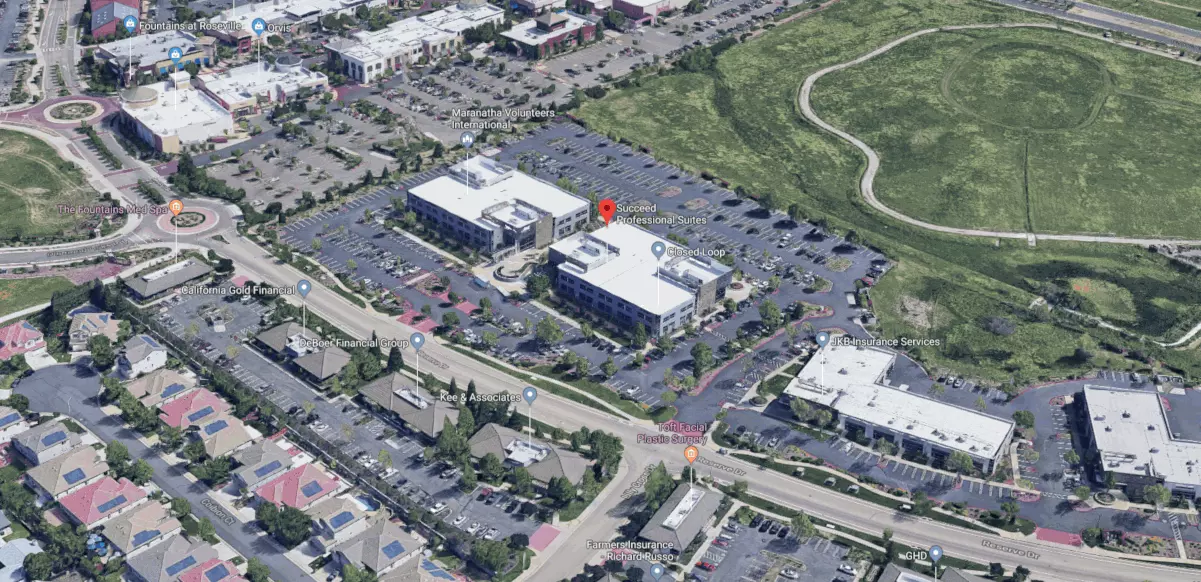 FULL AMENITIES
Centrally located in Roseville, CA, our executive office suites feature  professionally appointed meeting rooms, lobby/reception and lounge areas, an upscale location, and just a short drive from Sacramento airport.
FREE DOCUMENT PRINTING
Receive 200 black & white copies plus 50 color copies or prints per month.
GIGABIT INTERNET PLUS FREE WIFI
                      Amazing full Gigabit upload and download speeds on our 10Gbit Internet backbone.
FREE PARKING
Enjoy free tenant and guest parking in our oversized lot.
MAIL & PACKAGE HANDLING
USPS mailbox, packaging receiving, and shipping services are also available.
BREAK ROOM & COFFEE
Enjoy premium coffee, snacks, and a full cafe style break room.
EASY COMMITMENT
Fully furnished, wired-in, move-in ready offices for any business without the hassle of long-term contracts.
CALL ANSWERING & SCREENING
On-site receptionist will screen and answer your calls with a custom greeting.
100% PRIVATE OFFICES
All offices are private for no distractions, noise, or interruptions.  Also safer from germs.
UTILITIES INCLUDED
All utilities are included with no setup time required.
24 / 7 ACCESS
Enjoy access to your office space any day and time during the week, even on weekends!
OFFICE CLEANING
Weekly service will remove trash, dust, and vacuum to keep your workplace clean, professional looking and stress free.
For Lease

$760 /month

Nicely furnished inside office not far from cafe style break room.  Fully furnished for one with U-shaped desk, lateral file, two guest chairs.  Ready…

For Lease

$990 /month

Located near rear private entrance this is a long rectangular shaped office currently furnished for two.  Has glass corner to hall with privacy blinds.
Have Questions?
Succeed Professional Suites is ready to have you join our Roseville Small Offices for Rent today.
Are There More Roseville CA Small Office for Rent?
Our office listing are updated weekly, please check back frequently to find the best opportunities or drop by our location and check with Receptionist.
How can I schedule a visit to view the offices?
Our receptionists are property management assistants and can show you all the available offices that fit your needs and budget.  They are available 8AM to 5PM Monday through Friday EXCEPT 12 to 1PM during their lunch. The can assist with questions and provide applications and sample leases.
How Do I Contact You?
Feel Free to reach out by calling 916-517-1600 or via our Contact Form